Our Mission:
Helping

30,000 children find BELONGING by 2030

More than 30,000 Canadian kids are stuck in temporary government care. A number that's hard to put into perspective...until now.
Behind the Scenes Video
Our Impact: Efficiency and Effectiveness
At 18, with limited support, they struggle with significant unintended consequences.
Each year, tens of thousands of children are taken into the child welfare system. Their origins vary from unaccompanied minors who have migrated and landed with nowhere to go and no one to rely on, indigenous children, or those who were removed from abusive, neglectful homes. Once in the child welfare system, there are challenges with foster care, mental health, and preparing for aging out of the system.
Until the Last Child develops projects designed to meet these challenges and improve the health, safety, wellbeing, and access to families for a sense of belonging.
All of our UTLC Pilot Projects have been delivered on time, on target and on budget.
The Bringing Families Together Pilot cost approximately $1.8 Million over two years.
The 76% of children in the pilot that achieved permanency resulted in $25.1 Million savings to government.
Based on Canadian and U.S. estimates, the estimated avoided costs are in the range of $250,000 - $460,000 per youth aging out of care each year
A permanent, supportive home and sense of belonging is the best chance these children have for success.
2017 RBC Innovating for Youth Award
Until The Last Child was the recipient of the 2017 RBC Finance Award: Innovating for Youth. The award is presented to leaders who are playing a pivotal role in catalyzing the Canadian social finance marketplace. The Innovating for Youth award celebrates the efforts that UTLC is making to mobilize private capital for public good and our contribution in addressing key gaps and challenges faced by youth in Canada.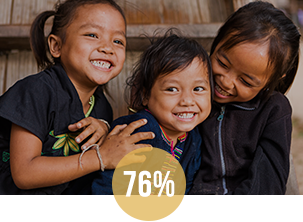 Approximately 76% of kids in our 2016 – 2018 Manitoba Bringing Families Together Pilot Project found permanent loving homes.
Approximately 50% of kids in our 2012 - 2014 Guelph Finding, Keeping and Honouring Connections Pilot Project found permanent loving homes.
OUR TOOLKIT FOR CHANGE
RESEARCH
We support world-class evidence-based research utilizing innovative jurisdictional best practices.
NEW FUNDING
We provide funding, consulting expertise and other vital resources to support child welfare.

FOCUS ON PERMANENCY
We work alongside child welfare to support their efforts with efficiency and effectiveness measures.

LEVERAGE TECHNOLOGY
Address systemic barriers to help ensure that these kids find the right home at the earliest opportunity.
Thank you to our partners
Canada's business leaders have the means, the will, and the entrepreneurial mindset to help solve Canada's child welfare problems.